Evanston Township High School
Class of 1976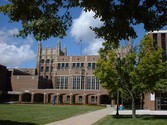 You've Arrived at the
ETHS 76ers Official Website!
Welcome 76ers! If you are new to our site, please register and complete your profile and contact information by clicking "First Time Visitors" on the left side of this page.
Here you can join fellow alumni to find out about upcoming events, news about ETHS, and read personal updates about fellow alumni. We want to hear your news! However, please know that this site and its corresponding database, as well as our Facebook page "ETHS 76ers", may not be used for commercial purposes or for personal financial solicitations or promotion.
---
For your convenience, a Venmo account has been set up for making additional contributions electronically to our 45th reunion. The account number is @Jonathan-Salk-1. Link is here.
---
Select Classmate Profiles to view classmates' profiles to see their updates!
---
Select Missing Classmates to help us find classmates who haven't created a profile.
---
Select In Memory to see classmates we have lost. You can share your memories and pay tribute to them by selecting their name.
---